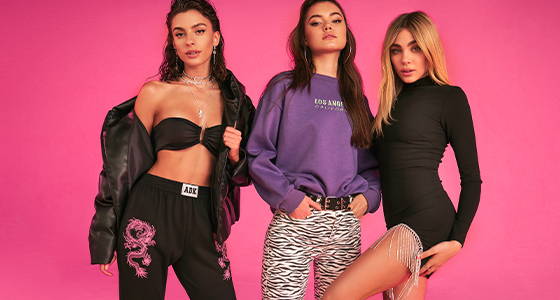 How long does shipping take?
Up to 8 business days, not including the date of order.
Can I cancel or change my order?
We know you want your Adika goodies ASAP, so as soon as you place your order we start working on it!
Send us an email at us@adika.com with your order number and/or new address within 1 hour of placing your order, and we'll put in a request with our facility. Our orders are processed quickly, therefore we cannot guarantee that your order will be cancelled or that the shipping address will be changed.
As soon as your order ships, you'll receive a shipping confirmation email with your tracking info so you can keep tabs on the delivery status.
Think your package is lost in transit? Try reaching out to the carrier using the tracking number provided. If 8 business days have passed (not including date of order), send us an email so we can look into it.
The tracking info says that my package was delivered, but I never received it - what's up with that?
We advise checking with neighbors/doorman/leasing office. If no one has seen it, wait 3 business days - in most cases, the package turns up (sometimes the carrier marks it as delivered before actually delivering). Still haven't found/received your package? Send us an email at us@adika.com.
I received a faulty/wrong item in my package, what do I do?
Shoot us an email with your order number and include a clear photo of the damaged/incorrect item. Make sure we can see the ticket with item number in the photo so we can find out what went wrong.
US RETURNS:
Pack your item/s in a non see-through bag and create your free return label HERE.
Then just drop your parcel off at your nearest USPS.


INTERNATIONAL RETURNS (Outside the US):
Pack your item/s in a non see-through bag and add a note with your full name and order number (which can be found in the order confirmation email you received after placing your order). Ship items to:

Adika Style
Kremnitzky 3
Tel Aviv, Israel
6789903

*Make sure to receive a tracking number from the carrier for the return package.
*Please note, these returns are at the expense of the customer. Rates vary based on weight and country of origin.
We're so sorry your purchase didn't work out! You can return the item/s for a full refund and simply re-order in your desired size or color, as we are not able to process exchanges. Please note that the shipping cost is not covered on the new order.
Once you have shipped out your return, you can use the tracking number to see when it is delivered to our returns facility. Once your package arrives, please allow up to 8 business days for your return to be processed and your refund to be issued.
I am outside of the returns policy, can I still return?
You're welcome to make a return within 30 days of your items being delivered. Unfortunately, after this time, we are not able to accept returns.
Returning from the US? Click HERE
To make a return from outside of the US, please send your items to:
Adika Style
Kreminitzky 3
Tel Aviv, Israel
6789903
Do I have to use the original packaging to make a return?
No need, just pack the items in a sealable, non see-through bag. Don't have one around? You can get one from the post office.